We hope you like and enjoy the new look and feel of our website, redesigned to match our team's new mission: to create custom-built themes for the Ghost publishing platform. Going from a subscription-based service to a made-to-order one is an idea that kept haunting us for a while, so we've decided to turn it into reality.
But why switch from predefined to custom Ghost blog themes? Changing our approach felt like the natural step to take in order to better service creative individuals and brands with uniquely personalized websites. Not to mention that we love a great challenge that appeals to our own creativity.
Working with our clients taught us a lot about the diversity of their needs, and that's how we concluded that personalized themes are the way to move forward. We like to think that it's similar to switching from ready-to-wear to tailor-made clothes. There's a time and place for both types of products, but a made-to-measure outfit can make its contents shine. Just like our custom Ghost themes bring some unbeatable benefits:
Your website's theme will be unique. You won't find it in tens of other places. Your visitors won't get that nagging sensation of déjà vu.
Your website will be a natural extension of your brand into the online. It will help build your visual identity. And that's something that everyone – from huge corporations to creative individuals – need and should have.
Your full needs will be met. From technical features to design, everything on your website will work flawlessly – precisely because it will be created with your product in mind.
And the list can go on – but you've got the gist of it: there comes a time when you want (and need) to build your online presence in such a way that anyone can recognize you. And we'll have your custom Ghost theme ready for you in no time.
How can I get my Ghost custom theme?
Getting a tailor-made website is as easy as child's play: send us a message with what you need, and we'll contact you to agree on the details and the budget.
As soon as all that is settled, we start working on your project, making sure you're getting constant updates and implementing your feedback. All in all, you should have your website up and running in approximately two weeks – but we'll take as long as you need to make it perfect.
Get a quote
Check out our portfolio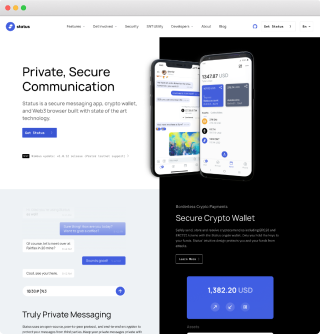 Blog and website development for Status, a secure messaging app, crypto wallet, and Web3 browser built with state-of-the-art technology.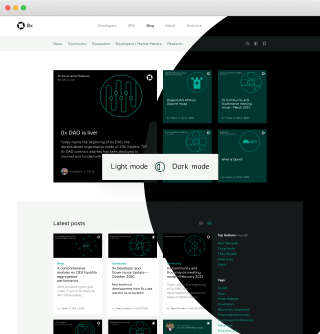 Dark mode and text-to-speech integration for 0x (ZRX) Ghost blog. Ox is a protocol that enables the decentralized exchange of tokenized assets on Ethereum and other blockchains.
Newsletter integration and smooth zoom effect for Underline by Italic.com, a marketplace that lets consumers shop unbranded luxury goods directly from the world's most exclusive factories.
Hosting from Ghost(Pro)
Another change to help you get the most from the platform and make everything easier is switching to the hosting offered by Ghost (Pro). This means that from now on Ghost's subscription-based hosting service takes care of all your hosting needs: server maintenance, updates, SSL certificate, enterprise-grade security, customer support and a lot more.
Once your theme is ready and your website is functional, the only thing you need to do is focus on what you're doing best – adding the content to your website.
What happened with our predefined themes?
We've changed course, but we will always be very fond of our first creations, the carefully crafted, responsive default themes. That's why we've made our whole Haunted collection available as open-source Ghost themes.