One of the latest projects we've been stoked to work on comes from Italic.com: revamping their blog to match their upgraded website (and business model).

Since 2018, the LA-based Italic has had a unique approach to high-quality, luxury-grade items. They are a marketplace that sells premium goods from the same manufacturers that supply top brands, but at a fraction of the branded items' price.
Their mission – to democratize good living for everyone – has already managed to build a quality-obsessed community. Plus, a recent 35-million-dollar financing made it possible for Italic to grow bolder and take the next step to scale up their product. Their formerly paid-membership-only marketplace is now open to everyone.
To illustrate this transformation in their online presence as well, they relaunched the Italic.com website. Alongside came a revamping of their blog, shaping up to become a platform for ideas that support their unique approach to premium retail.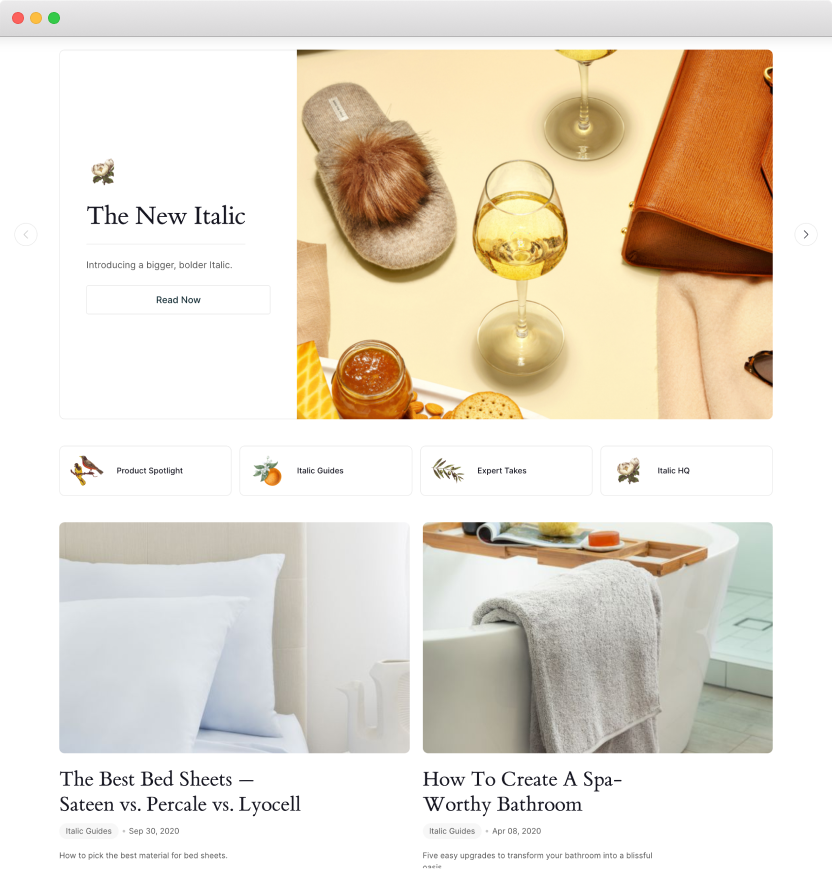 Our job: transforming a beautifully crafted design into a Ghost theme
This is where our Haunted Themes team enters the scene. We couldn't be prouder that they tasked us for a second time with the implementation of a custom Ghost theme for their blog.
Italic opted to incorporate into the design they provided carefully curated elements and shapes, from fonts to colors, to perfectly complement, enhance and deliver the practical information they offer.
Our job was to put their ideas into practice by applying the same principles on the tech side. We set their smooth and easy-flowing design at the same table with our tech stack. The two hit it off instantly, making it possible to deliver fully-rounded content in a simple and user-friendly manner.
The color theme, rooted in Italic's website, abounds in warm or neutral tones that play wonderfully with the white space, making the general feeling of comfort prevail.
Here's where we'd also like to take our hats off to the Ghost platform. It was the perfect canvas onto which we transferred all the requirements of this project, empowering us to deliver the best price-quality ratio.
The end result smoothly enhances the content on Italic's blog: practical advice packed in article-sized guides or expert takes, where you can find out how to put to the best use their vast range of products (fashion, sports, travel, home items and more).
How long did it take us?
From the moment they pressed the Send button on their order until we delivered the carefully crafted final product: 2 weeks.
Thinking about getting your own Ghost custom theme?
Send us a message with what you need, and we'll contact you to agree on the details and the budget. We'll start working on your project, updating you constantly, getting and applying your feedback, and you too should have your website up and running in approximately two weeks.
Get a quote